B.Y. Agro & Infra is a premier supplier of IQF Frozen Sliced White Onions from India.

IQF Frozen Sliced White Onions are boon to every kitchen. No more shedding tears over peeling and slicing onions! Use our frozen sliced onions right out of the pack into your recipes. B.Y Agro & Infra can supply IQF Frozen Sliced White Onions in bulk anywhere in the world including USA, Canada, Netherlands, Germany, Europe, Middle East, Dubai, Japan, Australia and South Asia.
Whether you want to make French Onion Soup, Fried Onion Rings or Caramelized Onions, our IQF Frozen Sliced White Onions are better than fresh onions as they are sorted, cleaned and each slice is evenly cut. Our onions are sourced fresh at harvest, and cleaned and sorted at our facility. Only the best onions are sliced using latest machines, and quick frozen in our state-of-the-art IQF freezers. IQF technology ensures that the onion slices retain their natural nutrients, flavor and crispiness.
Each pack of IQF frozen sliced white onion has:
Natural white color
Even sized slices, no damage or breakage
Natural crispiness and typical sharp flavor
Each slice is frozen separate, no lumps in pack
Our IQF Frozen Sliced White Onions are available in the following packaging:
15 kg Bulk packaging
25 kg Bulk packaging
30 kg Bulk packaging

IQF Frozen Red Onions also available.
Health Benefits of IQF White Onions

Onions are a rich source of Vitamin C, Calcium, Vitamin B6, and are full of healthy dietary fiber.
Onions are rich in sulpher which is very good for your liver.
Onions are rich in Chromium which helps to regulate your blood sugar.
Onions help your body to release good cholesterol (HDL). Onions are rich in anti-oxidants.
Include onions in your daily diet and enjoy the flavor and health benefits of B.Y. Agro & Infra's Frozen Sliced White Onions!
Nutritional Values – Per 100 grams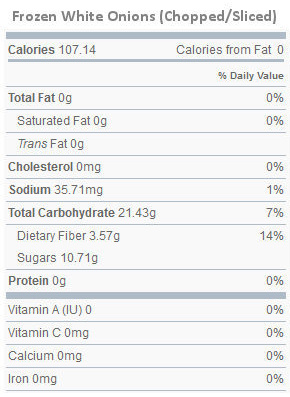 Nutritional Values of IQF Frozen Sliced White Onions – per 100 gms